A simple winged eyeliner can make your perfectly done makeup, but if not done properly this can be an absolute makeup disaster.
The extra flick of liner has been done since the '50s and still adds that perfect dose of glamour needed to spruce any eye look. You may be surprised to how easy this look is to create. All you need is your favorite eye liner and angled liner brush.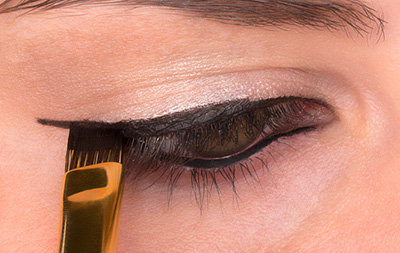 STEP 1
dab your brush on your eyeliner gel or pencil. Lightly drag the brush along the lash line out past the outer corner of the eye. Try to follow the natural outward curve your eye. If you are going for the more dramatic look, draw your angle further out.
STEP 2
In order to create the winged look take the brush at the outer corner and work the line back toward the center of your eye. Fill it in with light strokes.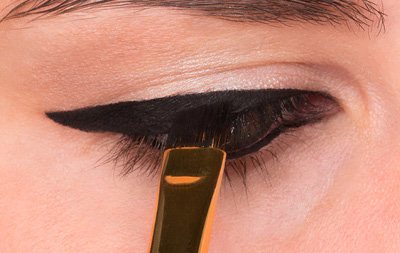 STEP 3
As you get closer to the inner lash line make the line thinner. The idea behind this is for the line to go from thin to thick as it goes from the inner corner to the outer corner of the eye.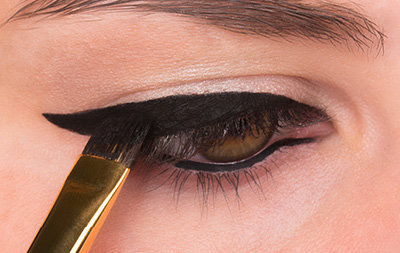 STEP 4
Connect the liner to the inner corner of your eye and fill in any missing spaces along the lash line.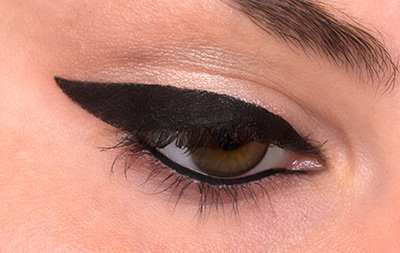 STEP 5
Repeat steps 2 to 5 on your other eye and voilà, you've completed your winged eyeliner!
A Few Extra Tips
Be sure to follow the natural shape of your eye. When you try to change the shape of your eyes with liner, it actually makes them look smaller. Very counterproductive.
The trick is to line as close to the lashes as humanly possible.
The firmer you press the brush, the thicker the line will be.
Use a hands-free mirror and keep your eye relaxed and slightly open as you line.
This is very important: Once you finish lining your eye, do not blink for at least 10-15 seconds to allow the liner to dry.
After you have lined both eyes, be sure to compare the liner on each eye. Are they even? If not, simply take a pointed q-tip and lightly drag the line along the eye to make it symmetrical to the other eye.
Incoming search terms:
get kerry washington's winged eye liner
natural winged eyeliner
how to create the perfect symmetrical winged eyeliner
winged eyeliner